Beaches of Halkidiki are easily accessible and beautiful, with crystal clear water. The green color of the pine trees dominates even the coastal areas and the frequent alternations of the landscape create an interesting and pleasant scenery.
At the west coasts, along the creek of Thermaikos gulf, Nea Irakleia, the first holiday destination of Halkidiki, the crowded Nea Kallikrateia, the touristically organised Nea Plagia with the free umbrellas, Flogita and Paralia Dionysou are the biggest and most visited beaches of the area, whereas there are many smaller but equally beautiful ones in between for those who travel on private means. Cassandra's biggest beaches are in Sani and Nea Fokea, in the touristically overloaded Kallithea and the smaller ones are at the villages of Kryopigi, Polychrono, Chanioti, Pefkochori, Paliouri and Agia Paraskevi as well as the more quiet ones in west Cassandra such as Nea Skioni, Mola Kalyva, Poseidi, Fourka and Siviri.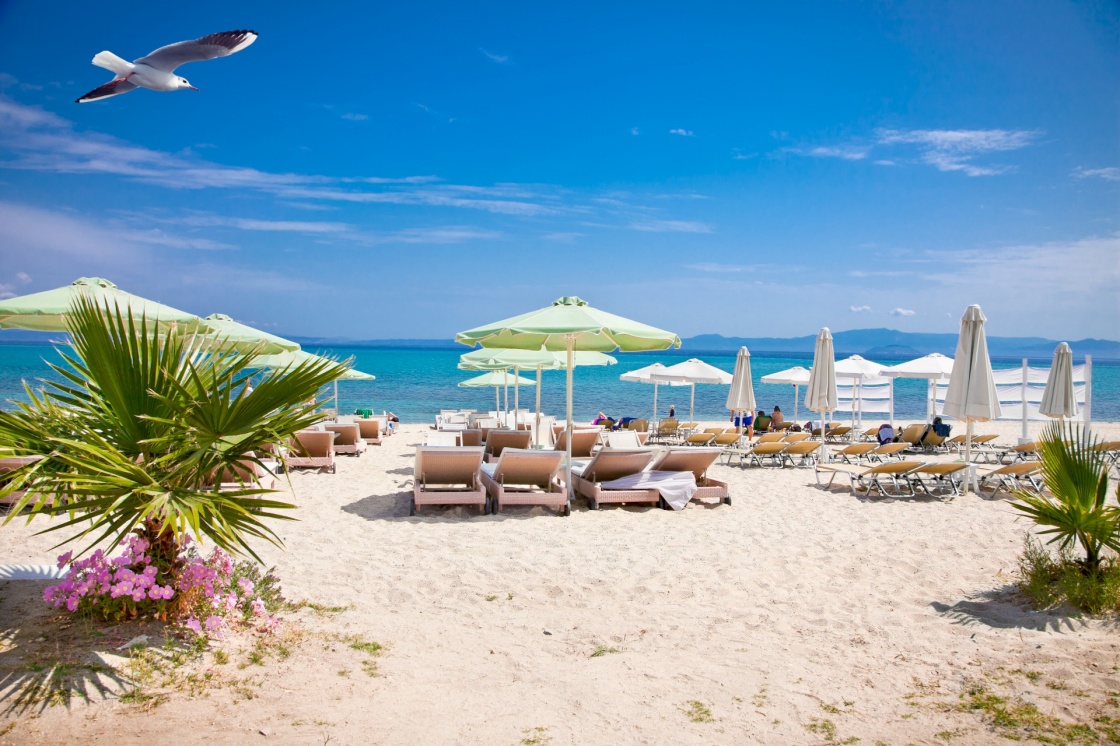 'Beautiful Hanioti beach on Kasandra peninsula, Halkidiki, Greece.' - Aleksandar Todorovic / Shutterstock
At the creek of Toroneos gulf the beaches worth to mention are Akti Mikiverna in Kalyves of Polygyros, beach of Gerakini, Psakoudia, Metamorphosi and Nikiti. In Sithonia, before Neos Marmaras, you shall visit the beautiful beaches of Agios Ioannis, Kalogria, Spathies, Lagomandra, Elia, Tripotamos, while in Neos Marmaras tourists prefer Castelo and the camping near it. Near Porto Carras, the still virgin beaches of Tristinika, Azapiko and Diaporti are definitely perfect for swimmers, and afterwards you can find Toroni and Porto Koufo. Very close to Sykia village in east Sithonia, lie beautiful beaches such as Kalamitsi, Sykia, Linaraki, Valti and Kriaritsi, followed by Sarti, Achlada and Kavourotrypes(Crab-holes). In Vourvourou, the local beach is suggested along with Livara, Xifara and Karydi.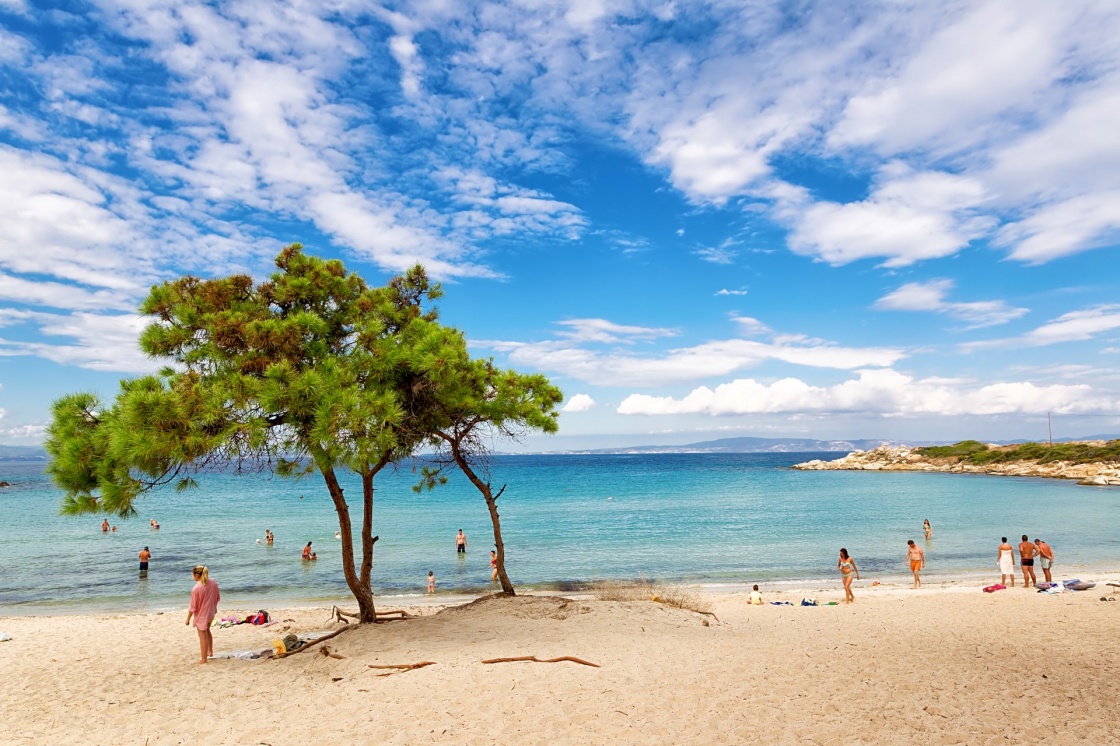 'Vourvourou beach in Halkidiki, Greece' - Ververidis Vasilis / Shutterstock
At the creek of Siggitikos gulf, near Pyrgadikia lie the beautiful sandy beaches of Akti Salonikiou, Kabos and Gialikies, in Ierissos its long sandy beach and plenty of beautiful beaches in Ammouliani island. Moreover, all beaches near Ouranoupoli are to be suggested to the visitors.
Finally, the quiet villages Olympiada and Stavros at the east coast of Halkidiki offer beautiful and crystal clear sandy beaches suitable for low profile visitors.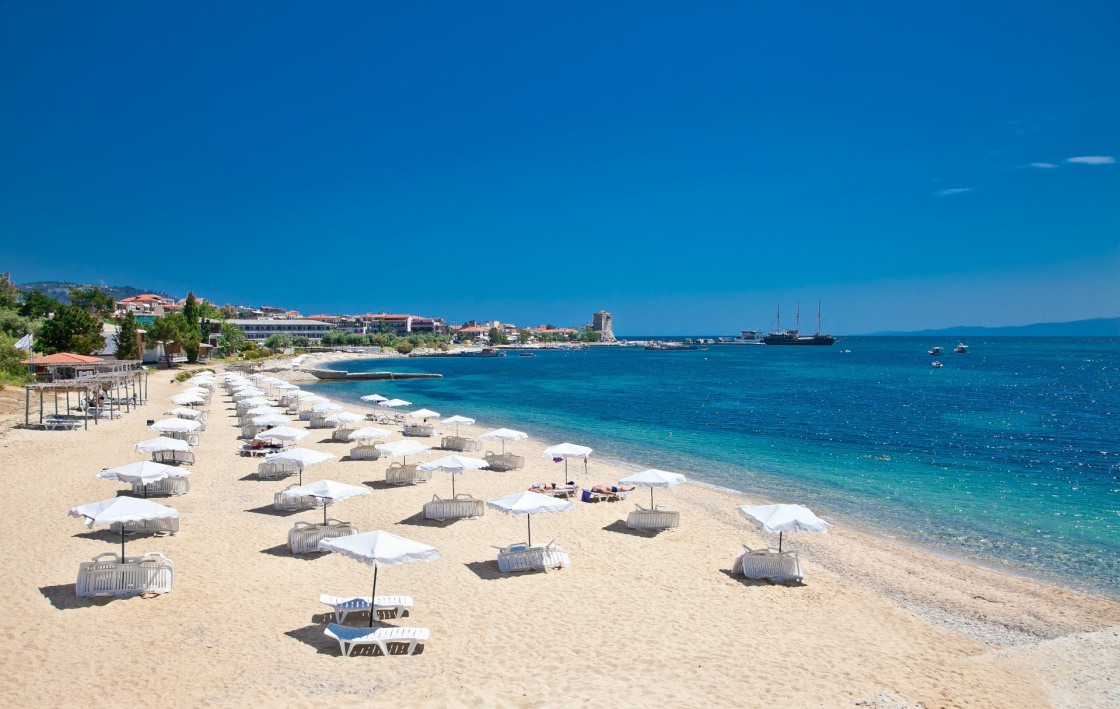 'Beautiful Ouranoupolis sandy beach on Athos peninsula, Greece.' - Aleksandar Todorovic / Shutterstock